Thinkware U4K128
THINKWARE's newest flagship dash cam model U1000 captures true 4K UHD resolution at the front and 2K QHD resolution at the rear, making it one of the highest resolution 2 channel dash cams in the market! Housed in a low profile and modern design, the U1000 brings to the table the latest Cloud Connected features including Live View, Locate Vehicle, Geo-Fencing and Impact Notifications, along with other important driver safety features such as ADAS and safety camera alerts.
ULTRA HIGH DEFINITION
VIDEO QUALITY
Equipped with CMOS Image Sensors, this lets you record crisp and clear 4K UHD 2160P front and 1440P 2K QHD rear cam videos be it daytime or nighttime. Even better, it sports a 150-degree wide angle lens view that minimises blind spots across the board.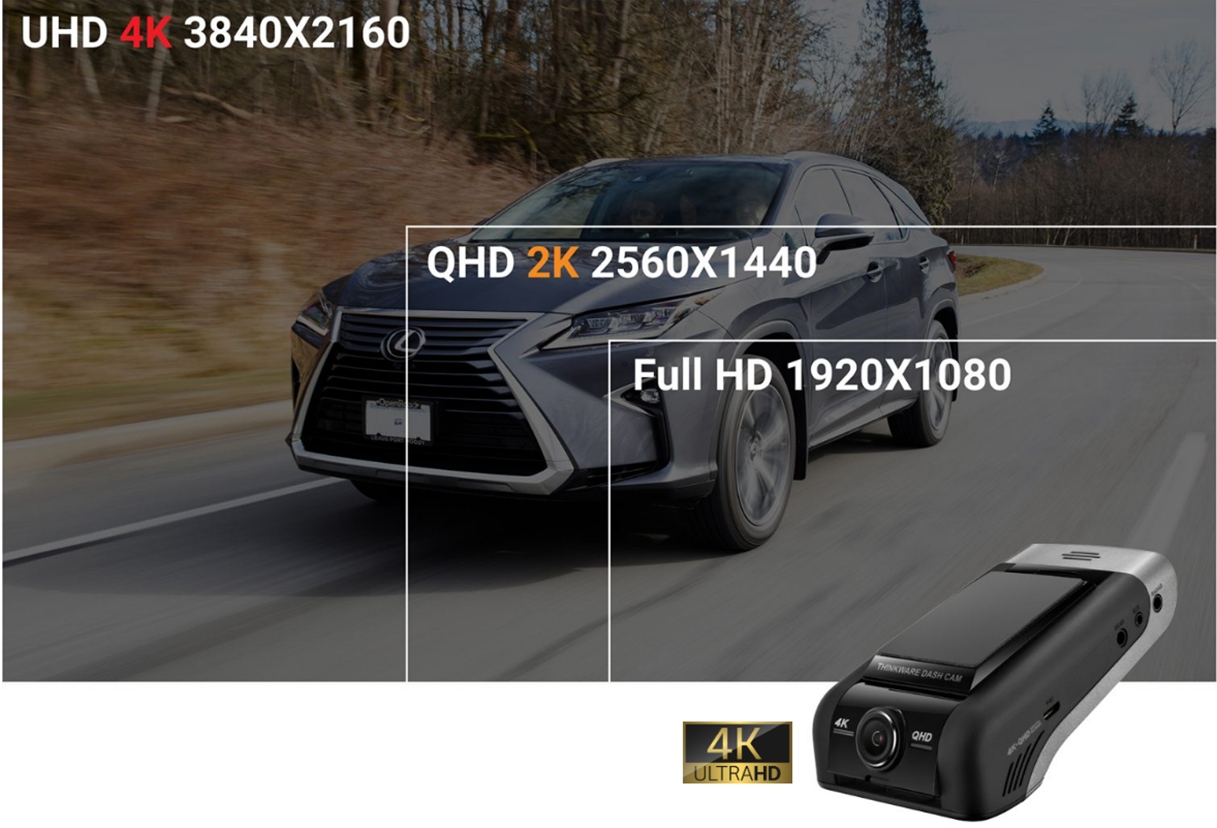 DYNAMIC 2K
AT 60FPS
U1000 also supports 2K QHD recording at 60 frames per second.
High frame rate delivers both smoother and sharper image.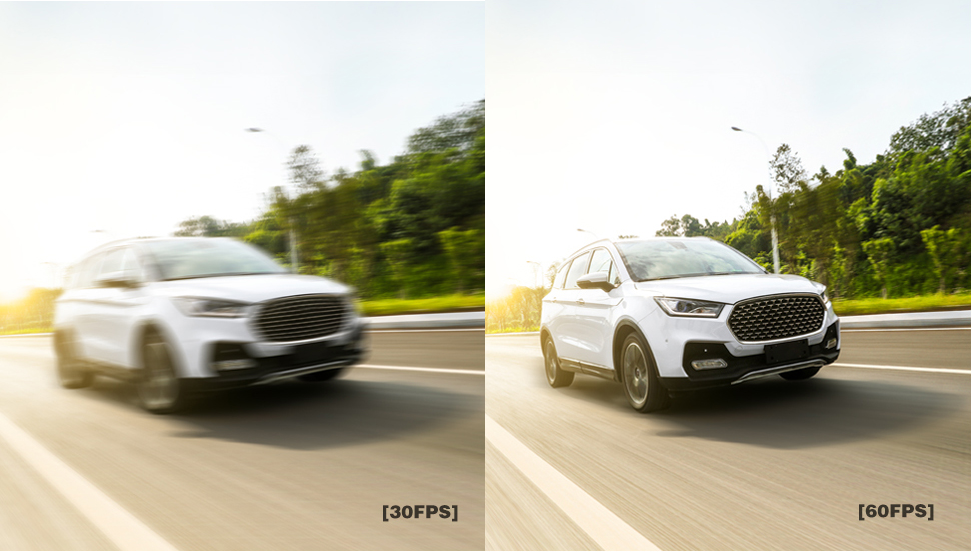 ---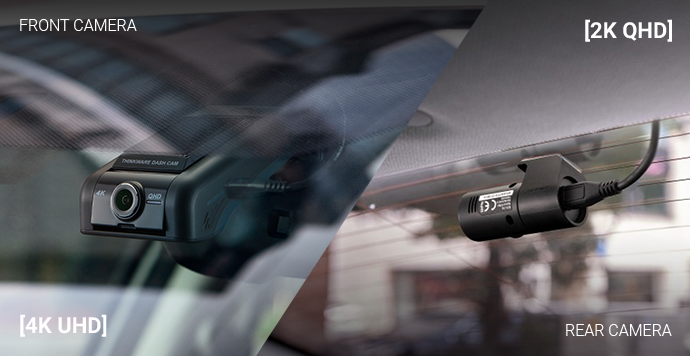 DUAL CHANNEL
Equipped with an input for a second camera, this can take your surveillance capabilities to the next tier. Just add in the 2K 1440P QHD rear camera to the mix to get peace of mind across the board, as doing so lets you keep an eye on what's happening behind your vehicle, available as an optional extra, included in 2 channel kits.
True 4K UHD 2160P Front Dash Cam with 150° wide angle field of view
Industry leading 8.42MP SONY EXMOR R STARVIS image sensor for clear crisp high definition recordings
Choose how you record, from either a higher quality 4K at 30FPS or a higher frame rate 2K at 60FPS
Built-in Wi-Fi to control and manage U1000 via iOS or Android powered smartphone
Thinkware Connect enables geo-fencing, vehicle location and impact notification alerts when the U1000 is connected to a WiFi Hotspot and the smartphone is logged into the Thinkware Cloud App
Advanced Driving Alert System (ADAS); Lane Departure (LDWS), Forward Collision (FCWS), Urban Forward Collision (uFCWS) and Front Vehicle Departure (FVDW)
Safety Camera Alerts including speed camera, red light camera and mobile speed zones
Advanced Parking Modes including Time Lapse and Energy Save to extend recording time (requires HWC, sold separately)
Super Night Vision 2.0 and Advanced Video Clear Technology enhance video footage quality for both day and night recordings
Built-in GPS embeds speed, time and location data into recorded footage
Includes a CPL Filter for the front camera to eliminate lens flare, light reflections and windshield glare
The U1000 supports up to 128GB and this model (order code U4K64) comes supplied with a 64GB.
Korean Made Reliability with 2-Year Warranty
NUMBER OF CHANNELS: 2 (has second camera input, second camera not included, refer notes below)
RESOLUTION: 4K 2160P (2K can be selected at higher frame rate)
FRAMES PER SECOND: 30 (60 if resolution is changed to 2K)
CAMERA ANGLE: 150° (DIAGONAL)
IMAGE SENSOR / CAMERA TYPE: SONY EXMOR R STARVIS / 8.42M Pixels / 1/1.8"
DIMENSIONS / WEIGHT: 64 X 111.5 X 32MM / 112G
VIDEO ENHANCEMENT TECHNOLOGY:

WIDE DYNAMIC RANGE: YES
NIGHT TIME PICTURE CORRECTION: YES
INTELLIGENT AUTOMATIC EXPOSURE: YES
NOISE REDUCTION: YES
ADVANCED VIDEO CLEAR: YES
SUPER NIGHT VISION 1.0: NO
SUPER NIGHT VISION 2.0: YES

WIFI: YES
GPS: YES
G-SENSOR: YES
DISPLAY SCREEN (SIZE): N/A
SUPER CAPACITOR / BATTERY: SUPER CAPACITOR
HIGH TEMPERATURE PROTECTION: YES
OPERATING TEMPERATURE: -10°C to +60°C
STORAGE TEMPERATURE: -20°C to +70°C
POWER INPUT: DC 12/24V
POWER CONSUMPTION: 2CH 5.1W / 1CH 3.1W (mean)
VOLTAGE DETECTION / CUT OFF: YES
ACCESSORY SOCKET POWER ADAPTOR: INCLUDED
HARD WIRE KIT (HWC): OPTIONAL
MOUNTING TYPE: ADHESIVE
DUAL SAVE TECHNOLOGY: NO
THINKWARE CONNECT

GEO FENCE: YES
VEHICLE LOCATION: YES
IMPACT NOTIFICATION: YES
VIDEO STORAGE: YES

CAMERA ALERTS:

FIXED SPEED CAMERA: YES
MOBILE SPEED CAMERA ZONE: YES
AVERAGE SPEED CAMERA ZONE: YES
RED LIGHT CAMERA: YES

ADVANCED DRIVER ALERT SYSTEM (ADAS):

LANE DEPARTURE: YES
URBAN FORWARD COLLISION: YES
HIGH SPEED FORWARD COLLISION: YES
FRONT VEHICLE DEPARTURE: YES

RECORDING MODES:

CONTINUOUS LOOP: YES
IMPACT/INCIDENT: YES
MANUAL: YES
PARK MOTION DETECT: YES (REQUIRES HWC)
PARK IMPACT/INCIDENT: YES(REQUIRES HWC)
PARK TIME LAPSE: YES (REQUIRES HWC)
PARK ENERGY SAVE: YES (REQUIRES HWC)
AUDIO/VOICE: YES

VIDEO FORMAT: MP4
VIDEO CODEC: H.265
AUDIO CODEC: HE-AAC
MEMORY CARD CAPACITY / CLASS: COMES WITH 64GB MICRO SD CARD; SUPPORTS UP TO 128GB
WARRANTY: 2 YEARS (ON CAMERA HARDWARE, 6 MONTHS ON MICRO SD)
COUNTRY OF MANUFACTURE: KOREA
NOTES:

Although camera has second channel input, rear camera is not available as an optional extra. U1000 is available as a 2 channel pack if you require 2 channel recording which includes the front and rear camera.
1x CPL Filter included in pack
PC VIEWER: Front and Rear Footage can not be viewed at the same time due to the large file size. Running both videos at once will cause the PC Viewer to continuously buffer. The files can only be viewed separately, and you can still view the rear footage on the main screen of the PC viewer.