Thinkware X550 Dash Cam
THINKWARE DASH CAM

X550

Front & Rear ALL FULL HD

Super Night Vision / Time Lapse
Road Safety Warning System / Safety Camera Alert
1080p Full HD & Full HD 2CH / 30fps / 2.7" Clear Display / Advanced Video Clear Technology /
Built-in GPS / DUAL SAVE (Internal Back Up Memory)
SUPER NIGHT VISION

Videos recorded in environments with low lighting such as dark alleyways or underground parking lots
can pose difficulties when you try to accurately make out and identify information from their images.

The Super Night Vision, is the proprietary night vision video processing technology by THINKWARE DASH CAM.
It achieves impressive high-sensitivity performance increasing the brightness levels up to 1000% with reduced noise during nighttime and other low-light
conditions by utilizing the new image signal processing (ISP) technology.

TIME LAPSE

Parking Mode feature allows you to leave your vehicle feeling assured that the DASH CAM continues the surveillance of the vehicle in your absence.
The new Time Lapse feature takes parking mode a step further, providing improved coverage by recording for extended an period of time compared to conventional parking mode.
The time lapse feature records at 1 frame per second, enabling the DASH CAM to record parking mode videos 16 times longer than the standard parking mode by reducing video file size.

The time lapse feature records at 1 frame per second,enabling the DASH CAM to record parking mode videos 16 times longer
than the standard parking mode by reducing video file size.

This feature also allows video playback at 15x speed, significantly reducing your viewing time while scanning through the video footage.

PEACE OF MIND ON THE ROAD

THINKWARE DASH CAM X550 comes with the Road Safety Warning System to provide audio and visual alerts for Lane Departure (LDWS), Front Collision (FCWS) and Front Vehicle Departure (FVDW)
It detects road markings and alerts the driver with voice warning in case the vehicle begins to stray
from its intended lane or runs into a risk of an imminent crash.

Equip your vehicle with cutting edge road safety technologies. Add confidence and assurance to your drive:

Front Vehicle Departure Warning (FVDW)

It informs the driver when the vehicle ahead is moving off

Lane Departure Warning System (LDWS)

It alerts the driver when the vehicle strays out of intended lane

Front Collision Warning System (FCWS)

It alerts the driver to maintain a safe distance when
approaching too closely to the vehicle ahead

SAFETY CAMERA Alert

Exclusive safety feature from THINKWARE - The Safety Camera Alert powers THINKWARE DASH CAM to be on continuous alert for
photo enforcement locations on your driving routes while recording videos in Full HD at the same time.

THINKWARE DASH CAM provides active warning for the following 5 types of road safety cameras.

RED LIGHT

WARNING SYSTEM

SPEED CAMERA

WARNING SYSTEM

RED LIGHT & SPEED CAMERA

WARNING SYSTEM

AVERAGE SPEED

WARNING SYSTEM

MOBILE ZONE

WARNING SYSTEM

RED LIGHT / SPEED CAMERA / RED LIGHT & SPEED CAMERA
WARNING SYSTEM

With the built-in GPS and safety camera location database, THINKWARE DASH CAM actively alerts the driver of any approaching traffic enforcement cameras such as red light and speed cameras to assist in watchful and attentive driving.

Audio guidance with visual alerts** on the DASH CAM screen warn drivers when approaching any traffic enforcement zones and cameras identified along the route. A two-step warning system is executed to prepare the driver for safe and conscientious driving. The first alert provides the distance to the camera location followed by the second alert which occurs upon the arrival at the precise location of the traffic camera.

Cultivate safe driving habits with THINKWARE DASH CAM. Start with observing the legal speed limit.

* Available only on selected models
** Available only on selected models with LCD screen

AVERAGE SPEED / MOBILE ZONE WARNING SYSTEM

Drive with confidence knowing you are moving within the legal speed limit. THINKWARE DASH CAM alerts you of excessive speeding and all speed enforcement camera zones so you can stay focused on your journey ahead.

Voice and visual alerts are activated when the vehicle enters the speed enforcement camera zones. The DASH CAM continuously guides you along the speed enforced stretch of road, assisting in keeping you within its speed limit.

Furthermore, THINKWARE DASH CAM is programmed to recognize the direction you are going and give the appropriate warnings for cameras relevant to your intended journey.

Maintain your awareness of all traffic enforcement cameras. Safe driving begins with THINKWARE DASH CAM.

* The video records both the location and speed information of the drive. The recorded footage can be easily retrieved via the PC viewer where you can easily review your driving performance and routes on the map.

* The Safety Camera Alert database of THINKWARE DASH CAM contains a comprehensive coverage of safety cameras throughout regions including North America (approximately 10,000 camera locations across the region) and the United Kingdom (approximately 18,000 locations). The safety camera database is constantly updated to ensure the availability of the most accurate and latest information.

* Some discrepancies may occur due to addition, removal and/or relocation of the traffic enforcement cameras. Therefore, be advised that
all motorists should observe safe driving practices at all times.

Voice Guidance for Different Types of Traffic Enforcement

Voice Guidance according to Different Types of Traffic Enforcement
Type
Distance Guide (mile) / Zone Guide
Speed Limit Guide (mile)
Speed Cam
Speed camera in XXX mile
Speed camera in XXX yards
Speed camera in XXX meters
Speed limit is XX miles per hour
Speed limit is XX km/h
*Speed limit notification is not provided in the case of variable point.
Red light Cam
Red light camera in XXX mile
Red light camera in XXX yards
Red light camera in XXX meters
Speed limit notification is not required
Speed & Red light Cam
Speed and red light camera in XXX mile
Speed and red light camera in XXX yards
Speed and red light camera in XXX meters
Speed limit is XX miles per hour
Speed limit is XX km/h
Average speed
Average speed zone
Speed limit is XX miles per hour
Speed limit is XX km/h
Mobile zone
Mobile speed camera zone
None

*The distance unit in the United States of America is in miles while it is in yards in the United Kingdom.

**Meanwhile, Australia, Singapore, Russia and Canada use meters.

**THINKWARE DASH CAM's voice guidance will inform the speed limit and distance to the enforcement camera as the car is approaches about 400 yards away from the camera location.

*After passing the camera, the audio alert ends with a "ding-dong". (Depending on the location of the camera, the distance to the camera for the audio alert may differ.)

Speed/ Speed & Red Light Cameras

"Speed Camera in 400 yards, Speed Camera Ahead"

- For Speed/ Speed & Red Light cameras, voice guidance informs the driver of the distance to the camera ahead.

Variable Speed Points and Red Light Cameras

- Voice guidance informs only the distance to the camera ahead.

Average Speed Zone

"Average Speed Zone. Speed limit is xx miles per hour."

- Voice guidance informs the driver of entering into the Average Speed Zone and the speed limit of the zone.

* No pre-alert for approaching Average Speed Zone.

Mobile Zone

What is a Mobile Zone?

Mobile Zone is an area set up and operated by police officers with speed guns or automated in-vehicle systems to survey the speed of passing vehicles. The zones may change for location with high frequency of police appearances.

*Speed limit guidance is not available for all Mobile Speed Camera Zones.

* No pre-alert for approaching Mobile Zone.

RECORD CRYSTAL CLEAR,
FULL HD FRONT/REAR IMAGES

With the 1920x1080p Full HD front/rear camera, THINKWARE DASH CAM accurately captures the movement of an object approaching the camera.
Use THINKWARE DASH CAM to record special moments of your journey other than crucial moments during an incident.

Full HD recording in 30 stable frames allows you to capture the precise moment of vehicle accidents, or vandalism as well as hit and run incident during parking. It can also be used as a digital Action Cam to record extreme or leisurely activities from your vehicle such as racing on a track or going off-roading in the mountains

* THINKWARE DASH CAM™ X550's Full HD rear camera is sold separately.

Optimal Image Correction System

You will encounter diverse conditions during your drive that may affect the quality of your recording such as direct headlight beams from an opposite vehicle, rapid change in light exposure going in and out of tunnels, weather changes and driving at night. The X550 has various image correction processes such as WDR, Super Night Vision, Smart AE and other functions that optimize image quality, ensuring clear and accurate footage under all circumstances.

WDR
(Wide Dynamic Range)

When your vehicle is under direct sunlight, exiting from a tunnel, or overshadowed by high-rises etc., recorded videos can appear too dark or bright due to a sudden change in the level of light exposure. X550's WDR removes excessively bright spots from recorded videos and adjust their overall color balance to produce clearer images.

* The WDR can cause degradation in clarity while correcting the exposure. Please make sure to set it properly before use.

Super Night Vision
(Nighttime Picture Quality Correction)

When recording with a dash cam in low light environments such as dark alleyways or underground parking lots, it can be difficult to accurately make out the images. X550 has the Super Night Vision as a default function, which removes static noise and adjusts brightness as well as colors at the sensor.

Smart AE
(Automatic Exposure)

In moments when you are exposed to direct beams of light, it may be difficult to identify crucial aspects of your view such as a license plate, or the color of the opposing vehicle. The X550's Smart AE always ensures ideal exposure and superb image quality in any lighting conditions. This enables you to identify what you encountered from your recorded videos.

MOUNTED 2.7 INCH CLEAR DISPLAY

You can view or retrieve real-time as well as recorded videos, change the settings and format your memory card on the LCD screen of the DASH CAM. The 2.7 inch clear display allows you to perform these tasks in your car without having to connect to a PC, MAC or smart device. X550 display comes with optimal specifications for displaying
clear and sharp images.

2.4 Million Pixel High Resolution Image Sensor

The 2.4 million pixel high resolution SONY Exmor CMOS image sensor allows significant improvement in quality of not only nighttime but also daytime images. The X550 assures brighter and clearer resolution of all images captured.

140 Degree Wide Angle

The high quality lens of the DASH CAM can record 140 degrees of precise and vivid imagery with minimal to zero distortion. Both front and rearview DASH CAMs come with 140 degree lenses.

Strong Processor, Ambarella A7

X550 utilizes the best CPU with the same high specification applied in sports cam for its smart performance. It minimizes power consumption while providing optimal performance. X550 is a globally competitive DASH CAM that reliably supports major functions such as Front/Rear Full HD Ultra-high Quality Recording, Dual Save, WDR, Super Night Vision, Smart AE and others.

Comprehensive Driving Data through Built-in GPS

Using the GPS data in X550, it can precisely pinpoint the vehicle's location and routes with its driving speed on the map. The GPS helps you accurately assess the status of the accident by providing you with the vehicle speed, the direction of the collision and the severity of the impact. The DASH CAM not only records driving footage but can also be used to track and recall past driving routes whether it be work or holiday routes.
* The X550 comes with built-in GPS.

THE NEW STANDARD
FOR DASH CAMS:

Dual Save technology is specially designed to save recorded footage in both Micro SD and NAND Flash Memory when a certain level of impact is detected. This is particularly useful if the Micro SD card is removed or damaged due to the impact of a collision. Because the Dual Save Technology also saves footage in the NAND Flash Memory, there is no need to worry about it getting lost or damaged. You can review the video saved in the NAND Flash Memory immediately on the X550 Clear Display, or copy it to the Micro SD Card and check it on the PC or MAC viewer.

* Dual Save Technology is activated when specific level of impact is detected as long as it is connected to a power supply (The impact detection threshold can be adjusted according to user preference).

Sophisticated Impact Detection

The X, Y, Z axes of the G sensor allow you to measure fluctuations in gravity, speed or rotation. You can figure out the axial movement and impact during an accident at a glance.

Viewer for Clear and Precise Control of Videos

The intuitive and simple-to-use interface of THINKWARE DASH CAM allows you an easy and convenient viewing of your recorded videos. You can playback and download recorded videos along with your route history and speed record through the PC or Mac viewer. You can also change the dash cam settings, format the memory card, or install updates with just a few clicks on the viewer.

SUPPORTS VARIOUS RECORDING MODES AND AUTO MODE SWITCHING

THINKWARE DASH CAM X550 supports various recording modes depending on the status of the vehicle whether it is in motion or parked (continuous recording, incident recording and motion detection recording).
Using the hard wiring power cable, which is directly connected to the power system of vehicle, you can automatically switch between continuous recording mode and parking mode without turning the power on/off.

Continuous Recording

Continuous recording mode powers on automatically when you start the vehicle engine. The DASH CAM continuously stores all the footages as one-minute video files while you are driving. There is no need to charge or replace the battery.

Incident Recording

Using the gyro sensor, which is not included in Action Cam, the DASH CAM detects impacts to your car while driving or parking and record them separately. The camera constantly records images when your vehicle is in motion. It records and safely stores the footage from 10 seconds prior to the impact.

Motion Detection Recording

If an object passes in front of your vehicle, the DASH CAM automatically detects and starts recording the motion. Without additional changes to setting, human motion approaching the parked vehicle is detected and recorded automatically, protecting it from possible vandalism or theft.

Manual Recording

While driving or parking, press a button to immediately start manual recording. Use this feature to capture all significant moments such as a friendly deer approaching your car, or a dangerous road rage scenario as useful evidence.

Automatic Switching between Parking Mode and Continuous Mode

After the car engine stops, the DASH CAM assesses the voltage condition in the car and automatically switches to parking mode. In parking mode, motion detection recording is activated while incident recording is maintained. When you start the engine in parking mode, the DASH CAM automatically switches to continuous recording mode without a need to turn on the device.

* If you mount the continuous power cable, it supports automatic switching to parking mode and motion detection recording function.

RECORDING TIME

THINKWARE DASH CAM allows you configure the default recording time frame. Depending on the battery condition and the weather,
you can adjust it from 1 hour up to 48 hours, for needed protection of your car.

Recording time
Video Quality
Full HD 30fps
Full HD + Full HD 30fps
Capacity
16 GB
124 min
62 min
32 GB
248 min
124 min
64 GB
496 min
248 min

* Memory space for the X550 can expand up to 64GB

* The lifetime of Micro SD Memory Card may vary depending on the usage environment. Its warranty period is six months.

SIMPLE INSTALLATION AND INTUITIVE CONTROLS

Installing the THINKWARE DASH CAM X550 involves simple connecting of a few connection ports and the pressing of a few buttons.
All necessary accessories are provided with intuitive instructions on their controls so you can be ready to go in no time.

ANTI-VIBRATION MOUNTING

Discreet and secure, the included 3M adhesive mount eliminates the need for a bulky suction cup mount and keeps a clear view while eradicating vibrations that cause blurry recordings.

* Advantages of the 3M tape

Compared to the suction cup mount, the 3M tape mount is easier to install allowing the device to be conveniently detached from and reattached to the mount. It has been proven to be the most secure method of DASH CAM installation.

Automatic Temperature Sensitive Shutdown Protection

Specially designed heat-discharging structure and high-temperature-blocking functions safely protect the device and its images stored under strong sunlight. In case the temperature rises beyond a certain level, the SELF-PROTECTION SHUTDOWN function switches off the device automatically to protect the stored video data.

FAIL-SAFE RECORDING

In the event that the power gets disconnected after an accident, Fail-safe recording of the X550 uses the Super Capacitor for backup power to ensure safe storage of any recording in progress – so you can be assured your valuable data will be securely stored under any circumstance.
SPECIFICATIONS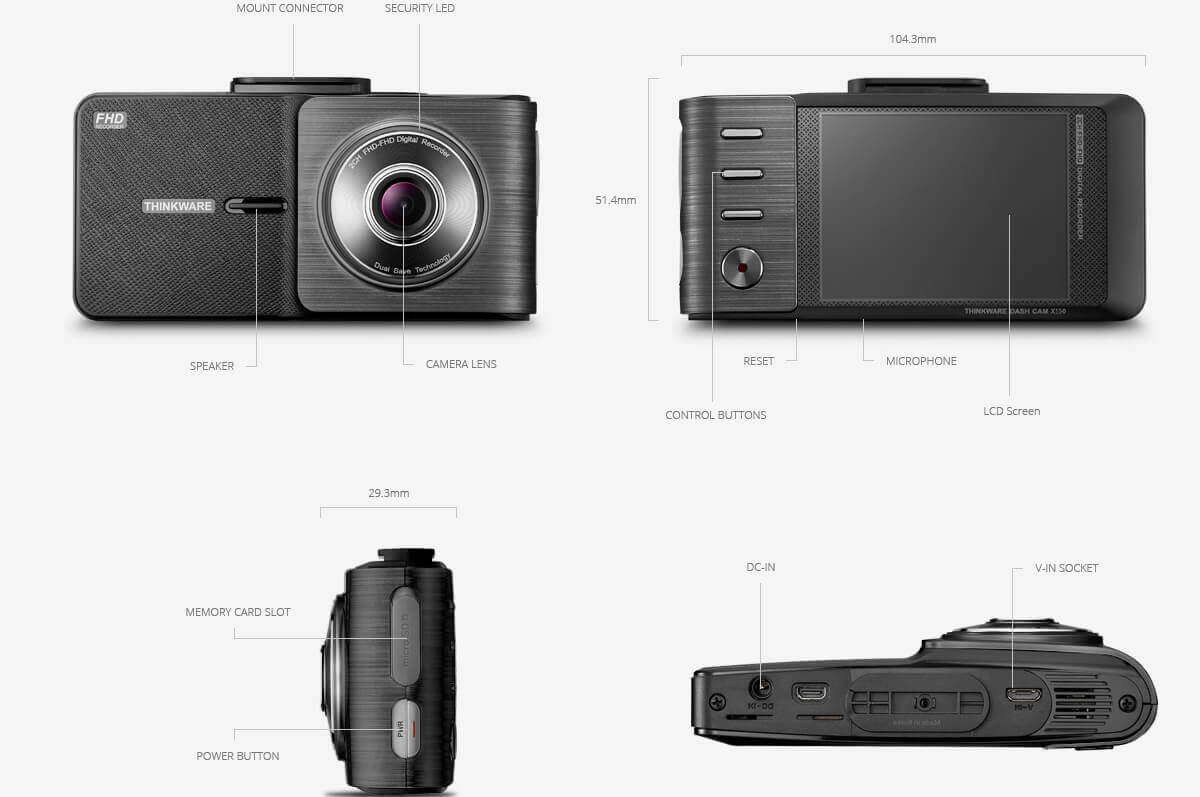 Unit Size (mm)

104.3 x 51.40 x 29.3

Storage Capacity Support

up to 64 GB

Super Night Vision**

Yes

Time Lapse**

Yes

Camera Resolution

1080P

Camera Sensor

2.19 Megapixel
1 / 2.9" CMOS

Frame Rate

30FPS

Video Format

H.264 MP4

Lens Viewing Angle

140O

Screen Size

2.7"

Audio Recording

Yes (Selectable)

G-Sensor

Yes

G-Sensor Adjustable

Yes (5 point)

Rear Camera Input

Yes

GPS

Yes

WiFi

No

Smartphone APP

No

Input Voltage

12/24V DC

Auxiliary Power

super capacitor

Security LED

Yes

Status LED

Yes

Internal Speaker

Yes

Safety Camera Alerts

Yes

ADAS

- Lane Departure - Yes

- Forward Collision - Yes

- Forward Departure - Yes
**Super Night Vision and Time Lapse only operate in Parking Mode.